Dedicated to
KAVYAKANTHA SRI GANAPATI SASTRI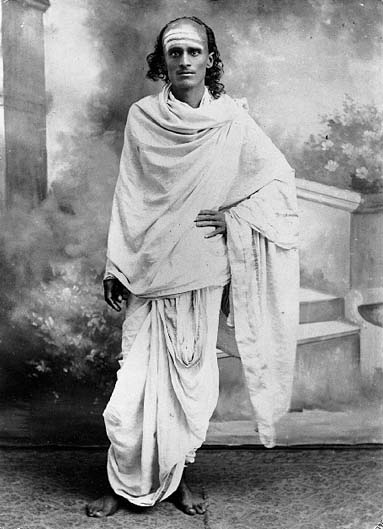 "We are all educated but Ganapati Muni is education Itself"- Kashi Krishnacharya, Famous Sanskrit Scholar
Vasistha Ganapati Muni (1878-1936), famed as Kavyakantha , and popularly addressed as Nayana, was a mighty spiritual personality in his own right and had a large following of illustrious disciples. It is a standing testimony to his spiritual sincerity, humility, and intellectual honesty that he recognized the uniqueness of Bhagavan Sri Ramana Maharshi's teaching , accepted Him as his Guru, and proclaimed him as the Maharshi to the whole world.
This web domain was launched in commemoration of 125th Birth Anniversary of Nayana(Nov 17th, 2003) and 97th Anniversary of his first spiritual, historical meeting with Brahmanaswami (later, Bhagavan Sri Ramana Maharshi) at the Holy Arunachala Hillock (Nov 18th, 2003).
* * * * * * * * * * *
Pages in this site will be progressively developed and updated in the days to come with the magnanimous support of Arunachala Ashrama, Bhagavan Sri Ramana Maharshi Center, New York City, United States, Sri Ramanasramam, Tiruvannamalai, South India, disciples of Kavyakantha Ganapati Muni, and devotees of Bhagavan Sri Ramana Maharshi.

Articles and Bibliography
Vasistha Kavyakantha Ganapati Muni - A Colossus of Tapas and Learning : Shri. K. Natesan, a disciple of Nayana sketches a short biography of Sri Ganapati Muni and also briefly accounts on his personal experiences with the Muni.
Kavyakantha Ganapati Muni's Sri Ramana Chatvarimśat (Forty verses in praise of Bhagavan Sri Ramana Maharshi): Dr. Anil K. Sharma's translation provides deeper insight into the Divine manifestation of the Maharshi and the deep-rooted devotion of Nayana.
Letters from Nayana to Maharshi - A Series
Click here for a list of Kavyakantha's scholarly literary works.
Email your comments and suggestions to Kavyakantha at arunachala.org
[Kavyakantha Creations 2003-2004]