Letters from Kavyakantha to Maharshi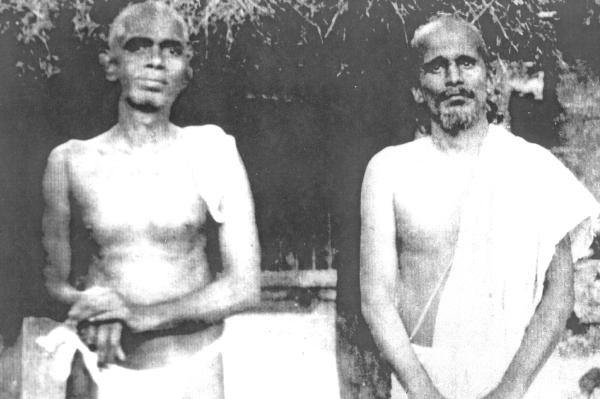 This series will feature letters from Vasistha Ganapati Muni (while at his Anandashramam, Sirsi) to Bhagavan Sri Ramana Maharshi. There is a reference in some of his letters to an urge to write weekly letters to Bhagavan.

10 March 1931
Anandasrama
Sirsi,
Lord, Guha Incarnate<![if !supportFootnotes]>[1]<![endif]>
Bhagavan should have already known about my life of Tapas here with my followers through the letters from Sundara Rao Pandit, Viswanatha, and Kapali. Since the past three days all of us here are having blissful experiences; I am particularly happy of my own experiences. Many have had the vision of Bhagavan in their dreams. All of us are of the firm conviction that this progress is entirely due to the gracious glance of the Bhagavan.
Lord, my present inner experience achieved by Bhagavan's look of grace I understand as inherence in the Vijnana-Atman, the sphere of pure intellect. I clearly experience my Self in the cave of the heart quite distinct from the body; yet, I have not ceased looking upon the world as different from myself. And, so I consider that this is not the complete and ultimate inherence in the Self. May Bhagavan Himself bless me with that Purna-Nishta by His gracious look capable of traversing any distance. My experience of ecstasy hitherto was particularly dynamic; it was pure and simple flow of power; but now it is perceived to be a flow of light giving a sense of utmost lightness. My faith is getting strengthened that the Deities are working upon for the fulfillment of the great task, impelled by Bhagavan Maharshi's look of Grace. May Bhagavan send me as a reply, His Look, full of compassion. Kapali with his wife, Mahadeva, Viswanatha, Ranga, and Sitaram's daughter are residents of the Ashram here. Sundara Rao Pandit, his sister and Devendra Sarma join us usually every morning and evening. All of us pray for the Gracious Look of Bhagavan.
I am,
Bhagavan's servant
Vasishtha Ganapati
P.S: Lord, I shall scrutinize Sat-darsana<![if !supportFootnotes]>[2]<![endif]> tommorrow onwards and send it soon to your holy presence.
Vasishtha

17 March 1931,
Tuesday,
Anandasrama
Sirsi
Lord, Preceptor Universal,
An urge from within prompts me to write a letter to Bhagavan's presence every week. As it was on the night of a Tuesday I got established in my Self by Bhagavan's grace, fixed that day itself for writing my letters. All are well here. Viswanatha has received the letter from the esteemed Swami Niranjanananda. There was some information in it somewhat depressing<![if !supportFootnotes]>[3]<![endif]>. But Viswanatha and others here got consoled at heart by the remembrance of the immortality of the real Self.
The Sanskrit verse of Sat-darsana was finished on Saturday. The import of Bhagavan's verses in Tamil Venba metre has been brought out in it to the best of my ability. I bow to Sriman Lakshmana Sarma who led me to take up this work. Perceiving the restriction of my hands in correcting His rendering, I myself began composing and have completed it. If there be any excellence in my verse rendering, it is Bhagavan's Grace.
From the Saturday my vision became distinct. I may say that I see everything as the manifestation of One Existence. It is my prayer to Bhagavan that this vision may culminate as spontaneous experience unassailable. I see as bubbles in water all formation in one existence; and I try to discard the former and experience pure existence alone always.
Sat-darsana was sent on Sunday and I hope it would have reached the presence of Bhagavan before this letter. Chiranjeevi<![if !supportFootnotes]>[4]<![endif]> Kapali has begun his Tika (commentary) on Sat-darsana today. May Bhagavan bless this endeavor so that it may be completed unhampered. I request the manager of Sri Ramanasramam to wait for the completion of the commentary and get Sat-darsana printed with it and not before without it.
Mahadeva is continuing his stay here. Everything is alright.
Praying for Bhagavan's grace,
I am,
Vasishtha

24 March 1931
Anandasrama
Sirsi
Lord, Master of Prime Cause,
By Bhagavan's Grace, we are, as it were constantly immersed in the effulgence of Bhagavan's compassion. Sat-Vidya<![if !supportFootnotes]>[5]<![endif]> has been returned by post corrected and improved as far as possible. Kapali has not yet begun his commentary on Sat-darsana. He is just now making a critical study of the work in its entirety to scrutinize the pros and cons of its contents. Whichever portion of my rendering of the original he doubts as exceeding or deficient, I am revisiting and setting aright. Our Viswanatha also is of help to us in this task.
Bhagavan, Slayer of Maya's offspring<![if !supportFootnotes]>[6]<![endif]>, the sense of separate existence in me has not yet vanished. I know that one flash of your wish could bless me with the experience of Absolute identity with the Universal. And I know also that no wish whatsoever could step in by itself at your heart. None but the Lord of the Universe could generate such an urge from your heart. One might ask "Why this round-about way? Could not God, Himself bestow His Grace directly on any one? Why should He bother causing such an urge arise in someone else's?" True. This mystery, only a blessed few could comprehend. When the person incarnate is present, it is through Him alone the Lord operates and not by Himself. That is the tradition. The person incarnate alone bears the burden for which He is born and not any other being celestial or human; for such indeed is the command He has got from the Lord Supreme. Therefore, my Lord, I pray to the Supreme to impel such an urge of Grace arise from your heart.
I am,
Your brother, ever with you from the past.

31 March 1931
Anandasrama
Sirsi
Lord, Teacher Universal,
By Bhagavan's Grace all are well here. Ranga Rao who has a strong urge from within to see Bhagavan will be starting from here on Monday next and reaching the presence of Bhagavan on Tuesday evening. Though all of us have really the same longing for the darsana of Bhagavan, each one has some impediment or other. I, for my part, am well consoled by the contemplation that Bhagavan's look is keener to bless and protect the far-off devotee.
Chiranjeevi Kapali has almost finished his study of the original text of Sat-darsana and he is about to begin the commentary. Viswanatha has received the letter from the good devotee of Bhagavan, the author of the (Telugu) version of Sat-darsana in couplet form. I have no objection whatsoever about getting the Hymn of twenty-one verses in praise of Ramana printed. It is my desire that is should belong to the Ashrama alone.
My Lord and friend of many births: My Tapas in the company of my followers is progressing by virtue of Bhagavan's Look of Grace. With intense devotional fervor, Ranga Rao spoke something thrilling. He said, "Nayana! I am going to serve Bhagavan for one month for the unhampered progress of your Tapas." If Bhagavan gives me His gracious glance as remuneration for the services of Ranga Rao, none else could be found paying me more Guru-dakshina<![if !supportFootnotes]>[7]<![endif]> or it might be the Mother (of the Universe) in Her dynamic aspect who spoke through Ranga Rao — "I shall serve Bhagavan, the Lord and Leader of the Force Divine."
Giver of everything desirable! Though I may be having a thousand desires, they are all set at rest within the cave of Heart scorched by the effulgence of Your benevolent look. Only one of them sprouts forth raising its head even now. May my impure Ego perish! My Lord, grant me the fulfillment of this aspiration.
I am,
Your own,
Vasishtha

7 April 1931
Anandasrama
Sirsi
Lord, Scion of the Line of Parasara<![if !supportFootnotes]>[8]<![endif]>
All are well here by the benevolent look of Bhagavan. I hope Ranga Rao would have reached the holy presence of Bhagavan this day itself and informed Bhagavan of everything here in general. Kapali has begun his commentary on Sat-darsana. I have hinted to him that Bhäshya would be the appropriate name for the commentary on Sat-darsana considering the greatness of the original text. Kapali says that as he studies and studies Sat-darsana, he finds more and more of its depth and profundity. I sensed its deep import even at the time when it has just been revealed by Bhagavan. Though the text (of Ulladu Narpadu Sat-darsana) is very brief and terse it contains in a nutshell the secret of profound works of philosophy and yoga. It is aphoristic. Though there is no refutation of any other system of thought in it, yet all other trends of thought have been very skillfully relegated as immature. Its reasoning touches alike the core of one's Heart, be he learned or ignorant. Though there is almost no quotation in it from any work of authority, yet this treatise shines forth as an epitome of the essence of traditional teaching. The commentator has in his explanation much to establish and many new points to elucidate. He has to ably clarify the contents, leaving nothing unexplained, and the commentary should not be too dilatory. Kapali would certainly be capable of bearing and fulfilling all this responsibility if even a casual and tiny flash of Bhagavan's glance be of unique potency.
I have composed a hymn of three hundred verses in praise of Prachanda-chandi (the Mother of the Universe in Her dynamic aspect) known as Prachanda-chandi-Trisati. Ranga Rao has taken with him a canto (of 25 verses) copied from it.
Just now I have begun Indra-Sahasram<![if !supportFootnotes]>[9]<![endif]>. May Bhagavan enable me to fulfill this task also.
I am,
Devoted to Bhagavan Sri Ramana
Vasishtha

14 April 1931
Solar New Year Day
Anandasrama
Sirsi
Lord Residing at the Heart,
Graciously accept our prostrations of devotion on the Solar New Year Day and shower your blessings upon us. May this year be, by your Grace, one of expanding success and prosperity for us.
Daivavrata, with his brother Sitaram, has arrived here at Anandasrama from Bombay. He will be proceeding to Gokarna shortly to fulfill his duty of performing the Upanayanam<![if !supportFootnotes]>[10]<![endif]> for his son.
Kapali is going ahead with his commentary on Sat-darsana. Mahadeva will be starting from here on Saturday, the first of the bright half of Vaisakha <![if !supportFootnotes]> [11]<![endif]> and arriving there on Sunday evening to bow at the feet of Bhagavan.
We have received Ranga Rao's letter. I hope either he or Sundareswara would write us a letter every week.
My Lord, I consider everything achieved when on full maturity of one's Tapas the ego gets annihilated, spontaneous Self-awareness is well established and all the senses are entirely dedicated to the Divine. May my inherence in the Vijnana-Atman (pure intellect) show me the way to get established at the Source, one's reality.
I know that the perfect fulfillment of all of my aspirations is to be accomplished only at the proximity of Bhagavan's feet and I am awaiting that hour. For the present, may this devotee, staying at some distance, appear very near to Bhagavan's Heart. Lord, You reside within my heart and I at Your Feet. You are my Master and Director, and I am your servant, your instrument to do your work.
I am,
Always yours,
Vasishtha

21 April 1931
Gokarna
Lord Immanent in All,
Impelled by dear Devavrata to be present at the first initiation function (Upanayanam) of his son, Soma, I have come down to this holy spot, Gokarna, and I shall be returning from here on Saturday. Viswanatha also has come here with me so as Sita Ram's daughter with her parents.
I hope Mahadeva has arrived there alright and is happy at the proximity of Bhagavan's feet.
Who resides within the Guha (cave) and is Himself, Guha<![if !supportFootnotes]>[12]<![endif]>, who is asleep within the worldly-minded and shines forth within the Yogis, whose awakening within is described as Man's second birth, who is extolled as Vaisvanara by Rishis<![if !supportFootnotes]>[13]<![endif]>, as Virat by the seers of later systems (Darsanas), whose reality is Jnana, whose form is Jnana, whose abode is Jnana, I bow to that younger son of Siva, Bhagavan, Yourself.
I am,
Your own,
Jyeshtha Raja<![if !supportFootnotes]>[14]<![endif]>

28 April 1931
Anandasrama
Sirsi
Lord, Grace itself,
I returned from Gokarna on Saturday. The two letters from Deva and Sundara have been received. Prompted by some urge divine I have begun today a commentary of the test of Rig-Veda.
Appu and his wife have come here from Secunderabad. Viswanatha also has returned here from Gokarna with me. Kapali is progressing with the commentary on Sat-darsana.
Deva has mentioned in his letter the word of Bhagavan that my Sanskrit-rendering of Sat-darsana conveys the import of the original (Tamil verses on Venba-metre). That gave me great joy. Kapali's commentary as far as it has been written is rich with unique charm and elegance.
Deva says in his letter that the Tamil verse (of Bhagavan) quoted by me in my exposition of the significance of Guha and Ganapati brought forth a charming smile on Bhagavan's face. He was blessed to behold that captivating expression on Bhagavan's countenance and we are thrilled to hear about it.
The copies of Indra-Gita sent by Sundara gave been received here. I hope my child Gita-Mala<![if !supportFootnotes]>[15]<![endif]> would have been fondled by Bhagavan's hands.
I am,
With my whole heart intent on you,
Ganapati

5 May 1931
Anandasrama
Sirsi
Lord in Mortal Guise,
All are well here. Sundara's letter was received here on the morning of Thursday. If he wishes to spend a few days of his vacation in the company of his brother Mahadeva and sister Vajra I am also glad about it.
Lord - I venture to state my present condition at the presence of Bhagavan's feet. Some consider Supreme Bliss as the ideal par excellence, others look upon the splendid yogic attainment as the main goal and others think that some state beyond happiness and misery is the thing to strive for; yet others are convinced that the conquest of death is the highest of aspirations. But I for my part know that the cessation of desire is the most desirable goal. Many of my desires have died of their flimsiness; others have been kicked off! Some others disappeared on satisfaction; yet others vanished prayed to leave me alone. Whether it is worthy or worthless, one desire alone persists in me unabated even now. I am absolutely powerless to prevent it. Even the urge to discard it does not arise in my heart. There seems to be no other way of getting over it but my fulfillment and I see that it alone obstructs my experience of the Self of all. I pray Bhagavan's sympathy at this difficulty of mine. Bhagavan knows what it is.
Protector of all! It is my belief that it is your own work and it is the truth. My prayer is that Bhagavan should not keep aloof throwing the whole burden on his servant's head.
I am (Ganapati)
Your collaborator in so many of your incarnations and of the same parentage

20 May 1931
Anandasrama
Sirsi
Lord of Spontaneous Grace,
The heavy letter from Sundara was received on the morning of last Thursday. May the cool shade of Bhagavan's feet itself remove his entire affliction. Bhagavan's grace spreads over any distance. Will not its cooling effect permeate through a devotee staying near-by with no other refuge?
Kapali has completed his commentary on Sat-darsana. There are two more things to be accomplished. The whole of it has to be revised once more and a flawless final copy made. In this task, all the corrections made so far in Sanskrit text have been sent to the Presence of Bhagavan. Those corrections are over. All the rest of it is impeccable and I hope it conveys the import of the original Tamil verses.
A doubt. Whom else are we, your devotees, to ask about it and who else could clear it? It is known that by the utterances of Bhagavan that the ego is if three aspects. One of them is limited to the body. Another in the form of Jiva with its thinking faculty. And the third being the pure 'I' embracing the pure existence (the ultimate reality) and experiencing it self as the one self of all. Of these, the first is involved in the whirl of the world and the third is the experience of eternal bliss. There is no doubt about it. What is the destiny of one who is established in Vijnana (i.e. pure intellectual awareness)? Does his experience serve as a step on his way leading him on to Awareness Absolute or not? If it does not at all serve as an aid here, what then is its function and purpose? Or, is there any law by which it may not lead one on to Awareness Absolute, depending upon the distinct outlook of aspirants? Sundara should kindly convey me Bhagavan's decisive view regarding this problem.
I am,
Your well known and unique disciple

27 May 1931
Anandasrama
Sirsi
Lord, as Man Superb,
Our mind is disturbed to learn from Sundara's letter that Bhagavan's body, the lustrous abode of effulgence divine born in the line of Vasistha replete with Tapas, wherein are centered the hopes of all of us, is afflicted with summer skin-irritation of sweat-glands. I humbly submit to Bhagavan my experience that the paste of Ati-Madhura<![if !supportFootnotes]>[16]<![endif]> applied every three hours is a remarkable remedy even in very severe cases of such trouble. But I hope everything would be alright by now.
All are well here. Day by day our zeal is increasing. Methinks lights and mights are alighting upon us space superb, sent forth by none but Bhagavan, thrilling our systems and evidently loosening knots of bondage within. It is our firm conviction that our integral perfection depends upon the Grace of the blessed feet of Sri Bhagavan.
I am,
The Leader of Devotees of Bhagavan Ramana

3 June 1931
Anandasrama
Sirsi
Lord, Friend of the Lowly and Meek,
Sundara has conveyed us in his letter the explanation vouchsafed by Bhagavan. All the doubts of all of us here are now dispelled. The word of Bhagavan that the experience of the absence of any sense of finiteness (limitation) is the same in the Lord of the Universe and the liberated has completely set at rest some other doubts of ours also. We have understood by this statement of Bhagavan that there is the Supreme Lord, the Ruler of the Universe, that the liberated do also exist as distinct entities and that their experience of the absence of finiteness alone is the same.
Pranavananda has written me a letter asking for chapter names in Sanskrit and Telugu of Sri Ramana Gita which is to be reprinted. I have replied saying that I shall write and send him not only the names of chapters but a comprehensive introduction also. All well here.
I am,
The Bee, Happy at your Holy Feet,
Ganapati

9 June 1931
Anandasrama
Sirsi
Lord, Apparent as Man in Sport,
Accept our prostrations from here on the Holy Day of the Blessed Mother's worship<![if !supportFootnotes]>[17]<![endif]>.
We bow to Soundaryamba<![if !supportFootnotes]>[18]<![endif]>, consort of Sundara who brought you forth, the Lord, endowed with all the rare qualities of the Great incarnations, for the welfare of the world, for the annihilation of the forces of ignorance, for the elimination of perverse polemics, and for the revelation of Truth-Reality as Kausalya, Devaki, Renuka, Maya Devi, and Mary brought forth (respectively) Sri Rama — the protector of Munis<![if !supportFootnotes]>[19]<![endif]>, Sri Krishna — the teacher of Yoga-Vidya, Parasurama — the life-long celibate preceptor, Sakya Muni (Buddha) — who gave refuge to all beings, and the Son of Man (Christ) — who chose to bear the weight of all devotees' sin on Himself. We bow to Mathrubhuteswara<![if !supportFootnotes]>[20]<![endif]>, installed and presiding over her Samadhi and go to the devotees of Bhagavan conducting the worship at the Sanctum.
The Life of Bhagavan sent by my friend Sri Narasimha Swami Niranjanananda has been received here. All of us are grateful to the esteemed friend Narasimha Swami who has rendered inestimable great service to humanity by writing the Life of Aster Incarnate.
We have received Sundara's Letters of Flowers and the Ashram here is fragrant all over with it's perfume. On seeing the leaf annexed to it conveying Bhagavan's message, my heart got composed. Kapali's commentary on Sri Sat-darsana is almost complete.
I am,
The Adorer of the Dust of Ramana's Devotees' Feet
Vasishtha

17 June 1931
Anandasrama
Sirsi
Lord, of the form of Grace Itself,
All are well here and spending their time in meditation and meritorious pursuits. But my ambition is not that much. Bhagavan knows what my ambition is and I pray for Bhagavan's gracious blessings for its fulfillment as that is my key to open the treasury of the Grace of Devatas (deities) with; and that is the Elixir capable of restoring my real strength (of the Atman).
I am,
Your servant,
Ganapati

24 June 1931
Sirsi
My Lord and Master,
Kapali's commentary has been completed by Bhagavan's grace and fair-copying has begun. It has been decided that two copies shall be made. The extensive introduction and the first fifteen verses have been copied in the first one. I expect that the first copy will be completed by tomorrow evening. After taking a duplicate of it one of the copies will be sent to the Ashram most probably during the course of this week itself.
Sri Ranga Rao has returned here alright. He is just now making us happy by his accounts of everything at Bhagavan's Ashrama. Everything here has been already communicated to Bhagavan. Nothing more to add.
I am,
The Translator of Sat-darsana

1 July 1931
Anandasrama
Sirsi
Lord, Great Leader of the Army Divine,
Two fair-copies of Sat-darsana Bhashya have been made and one of them is being sent to the Ashrama today itself.
Viswanantha and Ranga Rao, eager for the darsan of Bhagavan, have started from here today itself and will be reaching the presence of Bhagavan shortly.
The rainy season has begun here. The fair-copy is being sent by post. It has not been entrusted to them for fear of its getting wet by rain.
Kapali's commentary intensely delighted me and I hope it will touch Bhagavan's heart also.
I am,
Ever bound to Your Holy Feet,
Ganapati

8 July 1931
Anandasrama
Sirsi
Lord, of Life Immaculate,
All are well here. Our Tapas is progressing by Bhagavan's Grace. A review by the editor of Andhra Patrika praising the life of Bhagavan by my friend Narasimha Swami has been attached to this letter.
I have an idea of writing in detail the life of Bhagavan in Telugu. That wish of mine could be accomplished only during my stay in Bhagavan's proximity and I look forward for that auspicious day.
Viswanatha's letter has been received. After a very critical phase, Sow. Parvati's fever has just now subsidized by the Grace of Bhagavan.
I am,
The Relisher of the Sweetness of Bhagavan's Life,
Vasishtha

15 July 1931
Anandasrama
Lord, of Glorious Fame Auspicious,
Everything is alright here by the Grace of Bhagavan, on account of continuous rain all over here the days are somewhat dull; yet our hearts are evidently alert within as they are being transformed by some power prompted by Bhagavan. Though not a ray of the Sun is seen everywhere, we feel ourselves being in sun-light. We never forget that the chief cook in this great cooking (going on within us) is Bhagavan. And this occupation of Bhagavan carries no remuneration. In this scheme, there is a women working with Bhagavan. Who is she? She is none but the Mother Divine in Her dynamic aspect, Mother of sixth incarnation of Vishnu (Parasuram) who put down the tyranny of arrogant kings. There is the Master above, the mover of all devotees as well as the worldly-minded, the sole inspirer of the regenerate (Jnanis). We recollect Bhagavan's utterances here that He himself is the Heart, the source of all ego-sense. May He, by his cook, get the food of His choice cooked soon and eat it.
I am,
The food being cooked in the form of a man

22 July 1931
Anandasrama
Sirsi,
Lord, Full of Compassion for the Devotees,
The grandeur of Mantra-Sadhana has been seen. The essence of Yoga has been perceived. The import of scriptures has been scrutinized in particular. Tapas has been performed with concentration in mind. The play of Kundalini-Shakti has been investigated. The source of Ego has been felt within. The transformation being effected by primordial Shakti Divine has been watched in tune with it in silence. Differentiation has been discarded. Attachment to sense-objects has been quelled. Craving has been effaced and steadiness practised. Yet, I am not satisfied. I am just now out to achieve that inner satisfaction of heart through Bhakti (devotion). There are three places for it. The first is my Master Bhagavan Maharshi; Indra <![if !supportFootnotes]> [21]<![endif]>, the Lord of the Universe is the second; and the third is the Glorious Mother India (Bhagavati Bharata Matha).
I am,
Your devotee from the distant past,
Ganapati

31 July 1931
Anandasrama,
Sirsi
Lord, Assuming the form of Man is Sport,
On this anniversary day of the passing away of my spiritual Consort-who has left her fame behind, the disciple who followed Bhagavan's way of Divine within Mother of Mahadeva - accept my prostrations. Remembered, she dispels my gloom, enlivens the urge to proceed with my mission, and brings about rare joy. It is my faith that she, your eminent devotee, is moving about among the living. As I think of her, the whole period of my stay at Arunachala (Tiruvannamalai) comes to my mind together with the beautiful form taken by Bhagavan in Leela and I experience an indescribable flow of power even in the midst of great difficulties.
I hope that Kapali and Parvati who have come over there for the darsan of Bhagavan would have conveyed to Bhagavan everything about us here; and also that savitri and Vittal Rao are having the felicity of Bhagavan's proximity.
I am unable to compose the usual verse in praise of Bhagavan at the end of my letter today, overpowered as I am by some excessive exhilaration. It does not matter, for my very breaths are in praise of you.
I am,
Vasistha,
Overpowered by the burden of separation of your devotee, Visalakshi

4 August 1931
Kuluve,
Lord, Shining as Consciousness Universal,
Arrived yester evening, I am here at the home of Sita Rama, the younger brother of Daivavratha. I shall be staying here for a week. My happy pen thrills to inform you that eight hours every day are devoted to flaming meditation now. Everything is all right and bright.
Your unique servant,
Ganapati

15 November 1931
Sorab
Lord, Foremost of the Rishis,
With your approval I have arrived at the appointed place to begin my intense Tapas. I think the time has come by the grace of Bhagavan, which I have been expecting for the past many years. I cannot bear to waste even a moment Just now. Here, in my effort, I am in need of Bhagavan's powerful ray of Grace with its cooling aspect as well. Bhagavan should not forsake one whose mission is same as His and who has been with Him in many of His former incarnations. I have absolutely no doubt about Bhagavan's Grace as it spontaneously flows even towards animals. But my prayer is this: Let there be no more delay or wavering. May Bhagavan impel this follower to prepare the ground for the mission for which Bhagavan has incarnated and may He grant him the necessary capacity.
I am,
Your own,
Muni
<![if !supportFootnotes]>

---
<![endif]>

Materials Referred from the Epistles of Light (1978)